About Us
:
We understand your business
We specialise in helping tradespeople take advantage of technology to get more business and to make running the business easier. Because we are ex-tradespeople ourselves, we understand how you don't have time to do all the things you could do to improve your business. It's a "catch 22" – you want to do the right things but you're busy doing what you are good at, whether that be plumbing, electrical or any other trade.
Our aim is to provide you with the tools that allow you to spend the maximum time making money carrying out your work and the minimum time spent doing everything else.
Imagine you could produce a professional quotation/estimate in minutes (sometimes whilst you are still with your customer) and immediately email your customer the documents.
Imagine you could simply photograph receipts using your phone to record expenses in your system.
Imagine you could access everything you need to know about your business anytime, any place, on any device.
With our Business Manager system all this becomes a reality that saves you time and money and allows you to focus on getting your jobs done.
Imagine you could have a state of the art website to showcase your services and completed work without having to spend £000's on web designers.
Imagine just taking a photo of a completed job and having your website portfolio page automatically update to include it!
Imagine the extra work enquiries that come through a web site that Google ranks highly due to its dynamic content and design!
All of this is a reality when you use our Tradeweb service!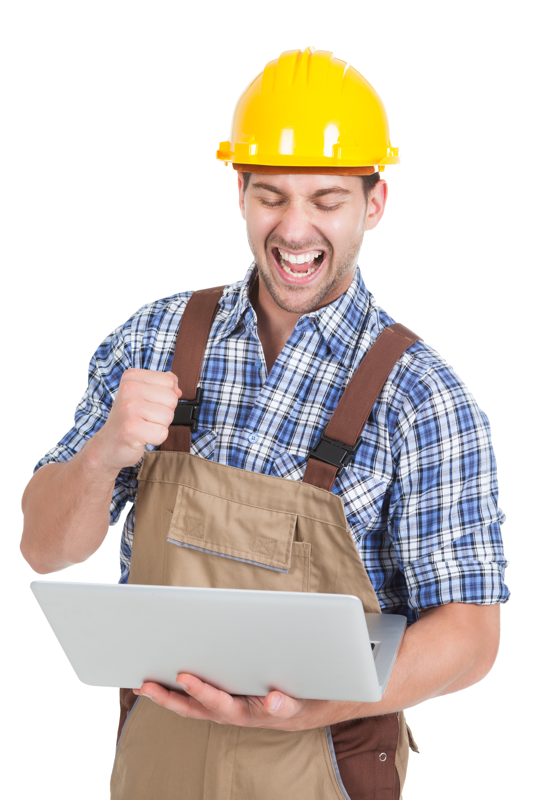 Services
:
Check our full range of services and features.
Business Management
Our Business Manager service provides a simple way to manage all aspects of your business. From allowing you to quickly and easily produce highly professional estimates, quotations and invoices to managing bills and expenses, Business Manager is available anytime, any place and on any device.
Customer & Contact Management
Estimates & Quotations -

NEW

Template Estimates & Quotations -

NEW

Standard Products & Services
Invoices & Payments
Bills & Expenses
VAT Management -

NEW

Find out more
Web Site Creation
Have a beautiful web site using the latest technology that works well on mobiles phones, tablets, laptops and traditional desktop computers. Select from a wide range of templates to match your brand and quickly get online. For tradespeople we can generate a site using pre-defined contents so that your business can be online and getting new business in no time at all.
Latest "responsive" designs
Google-friendly design
Pre-defined tradesman sites
Easy site management
Internet Marketing
Through proper design and content management, we can help you ensure that your website gets more visitors . We will ensure that your business is present in all the relevant directories, increasing the probability that you will be found by potential customers.
Conversion Videos
Content Creation
SEO & Link Building
Link Analysis
Testimonials
:
What our clients say about us:

"We couldn't afford to pay web design agency fees for our website. After looking around we decided that Yourdotcommerce suited us perfectly. We are extremely pleased with the work they have carried out!"
Brian J.

- Director

"My new website gives me a professional image which customers like. Just being in the directories is not enough - most of my customers tell me they checked out the website before calling."
Luke H.

- Plumber

"I never thought I could get so much for a small investment. I would recommend Yourdotcommerce wholeheartedly to any small business."
Neil C.

- Electrical Contractors

"Yourdotcommerce are very easy to work with. They understand how we work and the fact that we simply don't have lots of spare time to look after our site."
Mick R.

- Builder
Contact
:
Drop us a line and we will answer as soon as possible.